Web Development Agency Vs. Freelancer – Who Should You Hire?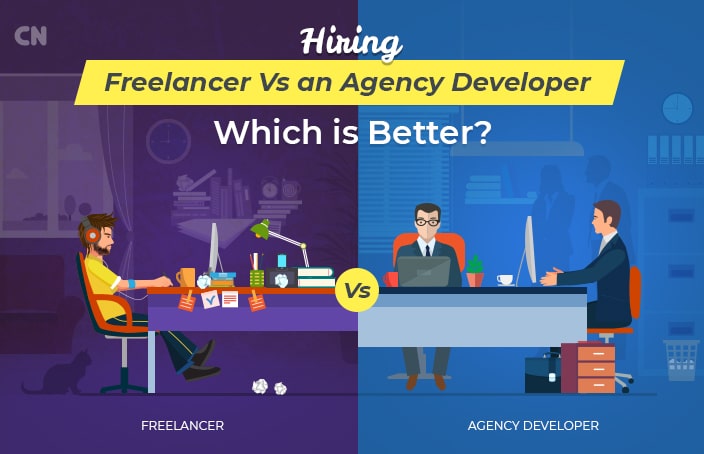 With the internet bursting with web development agencies and freelancers – it has become highly challenging for clients to choose between one to cater their web development and design needs.

Web development is an important investment for business owners and one should strive to get the best out of it. But who to choose? Are you also confused between the two? Not anymore! The below comparison will help you identify the best fit for your web development needs.

Freelance Web Developer
PROS
Inexpensive – freelancers usually offer cheap rates for their web design services, because of minimum overhead costs – they're flexible with their prices.
Particular Skills – you may find a lot of freelancers who are highly skilled. They can be of great benefits for your special and technical projects. Similarly, if you require minimum changes in your website for which you might not need a full agency team, a freelancer is the best option for that.
Highly Dedicated – freelancers are more involved in the project because they usually work on one project at a time while web development agencies have multiple projects going on at the same time.
CONS
Low resource – freelancers do not have a team, so you're bound to follow their schedule. In contrast to this, web development agencies has a team of professionals that is assigned to look after your projects.
Less accountability – they do not have active public reviews, you have to check on the references and for sure they'll only provide you contact who can vouch for their services. So, it's a game of luck.
Difficult to manage – if you have various freelancers working on a single project, it becomes a hassle for you to take follow up. For the website development project, there are multiple resources required and hiring all freelancers can get pretty hectic. It will b costly as well as time-consuming.
WEB DESIGN AGENCY
PROS
More Reliable – web development agencies are more reliable as compared to freelancers because they often have online reviews to hold them accountable for their work. You can be assured that you're in good hands.
Pool of Expertise – they have a team of experienced professionals who are skilled in different areas including design, development and copywriting. Together they can help you in building a top notch website.
Good Support System – website development agencies provide 24/7 support to their clients. They usually dedicate a project manager who provide supports to the customer and help them to stay on schedule and on budget.
CONS
Expensive – getting your work done by a professional website development company is definitely costly because there are various over head costs involved.
Complex Process – signing up with a professional company requires terms and conditions, and various processes. Also, client is bound to follow the company's hierarchy.
Final Verdict
Web development agencies are more advisable for obvious reasons. A website projects has various phases and components that require multiple specialists. If you wish to go with freelancer, you are bound to hire several resources for each component. It will be challenging as well as time consuming. It is recommended to save yourself the bother and hire a professional agency to take care of your website development needs.